Currently browsing the "
Nina Arianda

" tag.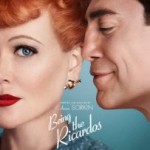 Aaron Sorkin (The Trial of the Chicago Seven, The Social Network) is the undisputed master of clever, snappy dialogue. And here he turns his gift to telling the story of the It Couple of the 50s — Lucille Ball and Desi Arnaz. He focuses the narrative on one particular week in 1953 when their world came close to crashing down because of a couple of media stories. Nicole Kidman and Javier Bardem star as the power couple prepping for their weekly "I Love Lucy" episode while scrambling to make one huge (and one small) scandal disappear. And while that story is unfolding the backstory of their relationship comes out in flashbacks. Sadly though it should be a lot more satisfying that it ends up being.
Do (or did) you get a kick out of the slapstick comedy of Laurel & Hardy? If the answer is yes, then Stan & Ollie is worth a watch, primarily due to the heartfelt and moving performances of Steve Coogan as Stan Laurel and John C. Reilly as Oliver Hardy. Stan & Ollie is not your traditional biographical drama. It kicks off with the legendary comedy duo at the height of their fame during Hollywood's Golden Age circa 1930s, then fast-forwards to the pair as fading stars looking to revive their routine – and film careers – by embarking on a variety hall tour of Britain in 1953.