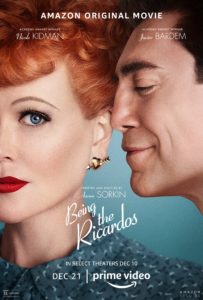 Aaron Sorkin (The Trial of the Chicago Seven, The Social Network) is the undisputed master of clever, snappy dialogue.  And here he turns his gift to telling the story of the It Couple of the 50s — Lucille Ball and Desi Arnaz. He focuses the narrative on one particular week in 1953 when their world came close to crashing down because of a couple of media stories. Nicole Kidman and Javier Bardem star as the power couple prepping for their weekly "I Love Lucy" episode while scrambling to make one huge (and one small) scandal disappear. And while that story is unfolding the backstory of their relationship comes out in flashbacks. Sadly though it should be a lot more satisfying that it ends up being. 
It begins with scandalmonger Walter Winchell ending his popular radio show with the not so cryptic sentence: "The most popular of all television stars was confronted with her membership in the Communist Party." This while McCarthy was actively hunting for Hollywood Commies and the taint could destroy a career. At the same time a tabloid article about Desi and another woman has hit the stands. But rather than panic, they decide that the best thing to do is go ahead with the rehearsals for the show as they deal with the network and sponsors and cast and crew, and their own relationship.
The film spends most of its time at Desilu Studios, in the thick of rehearsals, bantering with the writers, Lucy blocking a dinner scene, or arguing with the director. J. K. Simmons plays William Frawley/Fred Mertz and his performance elevates the whole film. You really would like more Fred. Nina Arianda is also quite good as Vivian Vance/Ethel Mertz and Lucy's close friend. The real life rivalry between the two Mertz actors is on full display, as is Vance's unhappiness with her character being overweight and married to an old man on the show. It's a backstage look at the making of one of TV's most iconic shows, and while that is fun to watch, you don't get any closer to knowing what was going on in Lucy or Desi's heads. It's all very surface Hollywood re-enactment with very little emotion.
The biggest problem with the film for me though is that there doesn't seem to be any of chemistry between Kidman and Bardem, the supposedly fiery couple. And as much as Kidman is made to look like Ball from time to time, she's never got the physicality or the comic timing right. You don't really ever love Lucy in this one. Or even really care that much about her. She doesn't come off as the brilliant woman she was so much as a sad control freak. No need to run out to the theater for Being the Ricardos. It will be on Amazon in a few weeks.
[Mainstream Chick's take: I agree you can wait to catch this one on Amazon Prime, but when it does become available, I think it's worth watching! I enjoyed 'Being the Ricardos' far more than Arty Chick. I found the behind-the-scenes revelations interesting and engaging and the performances all solid. Kidman and Bardem are up to the task of playing these iconic figures, and without a doubt- J.K. Simmons and Nina Arianda are definite scene-stealers as the feuding actors who played Fred and Ethel. I will watch those "I Love Lucy" reruns through a slightly different lens now, with even greater appreciation for Lucille Ball's physicality, comedic timing and attention to detail. 'Being the Ricardos' is a good cinematic option for mainstream types looking for a diversion from heavier or more abstract awards-season fare. -hb]
In theaters Dec. 10 and streaming on Amazon beginning Dec. 21.