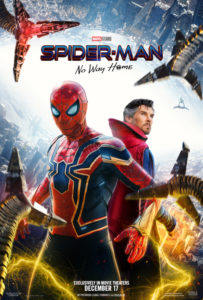 I've been extremely cautious about venturing back into theaters. But I decided to celebrate my COVID booster shot with a limited-capacity IMAX screening of Spider-Man: No Way Home. After myriad viewings in recent months of heavily-touted awards-season contenders, I needed a big 'escape' movie. And boy did I get it with Spider-Man: No Way Home. There is a lot going on in this movie, much of which I can't — or won't — reveal. Just know that if you're a fan of the Marvel and Spiderman franchises, you've got to see it soon, before spoilers spoil the fun. Not that Spider-Man is all fun. It's not. You'll laugh, you'll cry, you'll be genuinely moved and genuinely entertained throughout the 2 1/2 hour run time that includes sitting through all the credits for THREE bonus scenes.
The film picks up where Spider-Man: Far From Home left off in 2019. The identity of our embattled friendly neighborhood superhero is revealed to all the world, unleashing all sorts of problems for Peter Parker (Tom Holland) and those he cares about most, including his girlfriend MJ (Zendaya), his best buddy Ned (Jacob Batalon) and his beloved Aunt May (Marisa Tomei). So Peter enlists the help of Avenger sorcerer extraordinaire Dr. Strange (the always awesome Benedict Cumberbatch, The Power of the Dog) to help set things 'right', by casting a spell to restore his secret. With some exceptions. Things don't go well. The spell tears a hole in their world, opening the gates to the most powerful villains who've ever fought a Spider-Man in any universe, leaving Peter/Spider-Man with a heavy burden of responsibility to contain the damage. His own future– and the future of the Multiverse– is at stake.
Cheesy as that may sound to superhero skeptics, the story does work on multiple levels, and the film itself deftly balances action, drama, heart and comedy. The acting is top-notch and sincere even amid what is admittedly the most absurd circumstances. Comic book aficionados will certainly pick up on way more than I did with certain characters and nods to the past. For casual comic fans, it's simply a great escape.
Spider-Man: No Way Home opens exclusively in theaters on December 17. It's best seen on the big screen if/when you can do so safely.