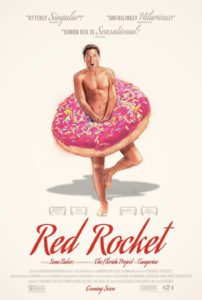 Director Sean Baker (The Florida Project, Tangerine) loves stories and characters that Hollywood regularly ignores. And his newest dark comedy Red Rocket continues to plumb the depths of America's underclass. It's the story of Mikey Saber, a once high flying porn star whose life has taken a downward turn and ends up back in Texas City begging his ex-wife to take him in while he figures out his next move. Simon Rex who was once a MTV V.J. and went on to act in a series of forgettable films steals the show as Mikey, a charming and self-centered hustler, proud of his porn awards and planning a return to California and his place in the biz. And that plan includes Strawberry (Suzanna Son in a breakout role), a 17-year-old girl he falls for at the local donut shop. Unfortunately, Mikey is not half as brilliant is he believes himself to be.
The only way he can get his ex Lexi (Bree Elrod) to let him stay is to promise to get a job and contribute. But that isn't as easy as you might think when the only job you've had for a couple of decades is as an adult film actor. There are no requirements though to deal weed. But when he goes with Lexi and her Mom (Brenda Deiss) to get donuts once he's flush, he meets Strawberry working behind the counter and sets his sights on winning her over and taking her back to LA and the biz.
Like his other films, Baker's cast is filled with non-actors and he's able to get great performances from them. Ethan Darbone is particularly good as Lonnie, a sad sack neighbor who's actually impressed by Mikey's porn star background, but who eventually gets used and thrown to the curb by Mikey. Throughout the film, you know Mikey is teetering on the edge. Will his relationship with a girl half his age get him in trouble? Or the drug dealing family he works for? Or will his ex who he's stringing along and her mom find out about the girl? Or could Mikey possibly get it together and head back to LA?
Red Rocket is mostly an absurd portrait of a narcissist in need of his comeuppance. The characters are well enough drawn, but are mostly one note.  Simon Rex's performance is what makes it worth seeing and will no doubt get him into some bigger movies down the line. The film is by no means a mainstream comedy and is a bit long. It's only in theaters right now, but it works just fine on a small screen so you might want to put it in your streaming queue for when it become available.
/