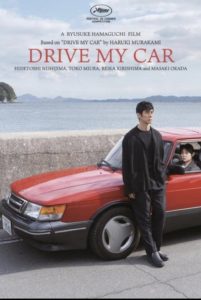 Adapted from a short story by Haruki Murikami, one of my favorite authors, Drive My Car is a haunting drama about love and grief and reckoning. It centers on two main characters. Actor turned theater director Yusuke Kafuku (Hidetoshi Nishijima) is two years removed from his wife's sudden death and still grappling with the meaning of their relationship when he comes to Hiroshima to direct Chekhov's "Uncle Vanya" for a theater festival. The organizers insist for legal reasons that he use their driver for the duration of his stay. She's a taciturn young woman named Misaki (Toko Miura) who ended up in Hiroshima after her own personal tragedy. And as she shuttles him back and forth to the theater in his beautiful red Saab 900, they slowly bond over the unresolved sadness in their lives. And I say slowly because the movie clocks in at just about three hours, though it doesn't feel long at all.
The film cuts back and forth from the car to the rehearsals for the play, which are unlike anything I've seen. It's a polyglot production with actors speaking in Mandarin, Japanese, Korean, English and sign language. And it's extremely watchable because the actors are reacting to one another on an entirely non-verbal level. But one particular man has been cast for more than his acting skills. Kafuku has chosen him because of his connection to his late wife Oto. She was a screenwriter and the handsome young actor was in her television shows, and Kafuku knows but doesn't say that there was more to their relationship.
Kafuku's relationship with Oto was complicated. The film opens with them in bed having sex. She tells him a story about a girl who keeps breaking into a house and leaving small tokens behind. This we find out later is where she comes up with the ideas for the scripts she's made a career of – post-coital inspiration. But they are not a terribly happy couple and as he leaves one day, she says they need to talk later, and he is afraid of what she has to tell him. But she dies before they have that conversation, leaving it to him to imagine.
The car serves as much more than mere transportation. Kafuku runs lines for the play by listening to tapes his wife made for him, keeping her alive. He talks with the actor about Oto there. And with Misaki about himself and eventually her own tragic past. His Saab has been his personal refuge from the world and so allowing another person to share that space is not easy for him.
Drive My Car is probably not for the mainstream crowd. It's languid and quiet. But it's filled with wonderful performances, achingly real emotional depth, and it's perfectly shot to heighten the film's sense of melancholy. It's one I will probably watch again, and I don't do that often. I expect it to be at the top of a lot of critics' lists this awards season. It is on mine now.
It's only in theaters at present. The film is Japan's entry for this year's Academy Awards race for international feature, and it won the screenplay award at this year's Cannes Film Festival.