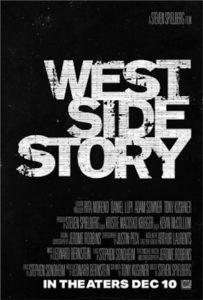 If anyone can get away with doing a new film version of West Side Story— without really changing the story or the era it's set in– it's Steven Spielberg. Here, he delivers a solid adaptation/reimagining that feels fresh while also paying homage to the original 1961 award-winning classic. Lest you've forgotten, West Side Story is itself an adaptation– of Shakespeare's "Romeo and Juliet," the tragic tale of star-crossed lovers whose deaths ultimately reconcile their feuding families. In West Side Story, the star-crossed lovers are Tony (Ansel Elgort) and Maria (Rachel Zegler), caught in a dispute between rival gangs, the Jets and the Sharks, in 1950s New York City.
Folks will view this film very differently depending on their frame of reference, attachment to previous cast members, and familiarity with the music and the story. And debate will surely rage about the casting choices. But overall, the cast does a great job of singing, dancing, fighting and crying their hearts out. Especially the women, led by newcomer Rachel Zegler as Maria, musical theater vet Ariana DeBose (Schmigadoon!) as Anita, and of course, EGOT winner Rita Moreno (the 'original' Anita) in a new role that carries on the legacy of the neighborhood pharmacy/candy store proprietor Doc.
The guys did not leave as strong an impression, except perhaps Mike Faist as Riff, the hot-headed leader of the Jets who relies on Tony to have his back. David Alvarez didn't quite match the dynamism of George Chakiris who originated (and won Best Supporting Actor) as Bernardo, Maria's brother and leader of the Sharks. And Elgort (Baby Driver, The Fault in Our Stars) may not be the perfect Tony, but yes, he can sing. Who knew?
The music is still stirring; the choreography is off the charts; the ending is still a hopeful downer. There are some elements you can't mess around with. And director Spielberg knows it. He, along with screenplay writer Tony Kushner make West Side Story a satisfying journey worth taking, even if you don't think we needed to go down this road again.
One thing I can say with absolute certainty: the film is far better than the recent Broadway revival of "West Side Story" (which hit the Great White Way in 1957 and was adapted into the 1961 film). That onstage magic apparently can not be recaptured–at least not yet. So for now, the new film version will have to suffice.
West Side Story opens in theaters nationwide on December 10.