Currently browsing the "
Rita Moreno

" tag.
If anyone can get away with doing a new film version of West Side Story— without really changing the story or the era it's set in– it's Steven Spielberg. Here, he delivers a solid adaptation/reimagining that feels fresh while also paying homage to the original 1961 award-winning classic. Lest you've forgotten, West Side Story is itself an adaptation– of Shakespeare's "Romeo and Juliet," the tragic tale of star-crossed lovers whose deaths ultimately reconcile their feuding families. In West Side Story, the star-crossed lovers are Tony (Ansel Elgort) and Maria (Rachel Zegler), caught in a dispute between rival gangs, the Jets and the Sharks, in 1950s New York City.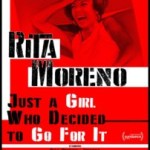 EGOT*. If you know what that is, you may also be aware of Rita Moreno's body of work. This film about her is a fairly straightforward tribute documentary, with talking heads and film clips, but the woman who emerges is so impressive. At the ripe old age of 89 (87 in the film), she's still going strong, still fighting for representation, still acting and being her feisty self. But what Rita Moreno: Just A Girl Who Decided To Go For It does beyond going over her extraordinary career in film, and stage, and television, is shine a bright light on the obstacles put in her way at every single step and her indomitable passion to be seen. I knew her name and have seen some of her work, but listening to her talk candidly about her life gave me a whole other level of appreciation for her.