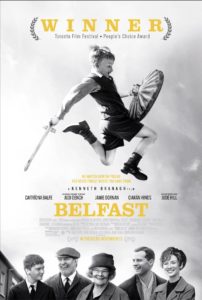 This Oscar-bait memoir movie comes from writer/actor/director Kenneth Branagh who takes a look back at a defining year of his childhood. Branagh was just a 9-year-old boy in 1969, living in Belfast, Northern Ireland at the beginning of what became known as The Troubles, a period when there was violent street fighting between the Protestants and the Catholics.  His story is seen through the eyes of his adorable little stand-in Buddy (Jude Hill) whose life is changed forever during that turbulent time.
Buddy lives with his Ma (Caitriona Balfe, "Outlander", Ford v Ferrari ) and Pa (Jamie Dornan, Fifty Shades movies,  A Private War) with his Grandparents (Dame Judi Dench and Ciarán Hinds, "Game of Thrones") on the same block. He's a regular kid, playing in the street, falling for his first crush, and getting into trouble. But suddenly there are explosions and barricades in the streets and his father who is away most of the time working in England fears for his family and wants them to move away.
But the conflict remains mainly in the background of this nostalgic tale, never plumbing the meaning of the animosity between the two camps. Instead, it's a fairly straightforward story about a close and funny family and their warm and wise grandparents. You understand why his mother is reticent to leave everything and everyone she's ever known, even if there is danger just outside the door.
So many directors eventually feel the urge to look backwards at their lives. Fellini had his Amarcord. Bergman, his Fanny and Alexander, and Cuarón won big with Roma, (there's also this year's The Hand of God from Paolo Sorrentino) so it's no surprise Branagh felt it was time to make his own. It's a beautifully shot film with great performances, including the kid. And I liked it, but I didn't love it. Perhaps that's because being seen through the eyes of the child it feels too clean and pretty, and the characters don't have a whole lot of depth. It is certain to be on "best of lists" though, so check it out for yourself.
Currently it is only in theaters. 
[Mainstream Chick's take: I completely agree with Arty on this one! -hb]