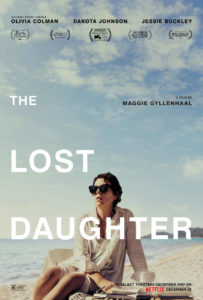 In her directorial debut Maggie Gyllenhaal demonstrates that she's as talented behind the camera as in front. Oscar winner Olivia Coleman (The Favourite) stars in this psychological drama adapted from a novel by Elena Ferrante ("My Brilliant Friend").  She's Leda, a college professor on a working holiday in Greece who encounters a young mother named Nina (Dakota Johnson, Fifty Shades,The Peanut Butter Falcon) and her unsettling family on the beach and becomes fascinated by her and  lost in the memories of her own fraught relationship with marriage and childrearing. It's a strangely suspenseful film blessed with fabulous performances.
Leda has just settled in and is enjoying her quiet little beach when a large and loud family sudden descend on it, taking over the place and asking her to move. She refuses, which immediately lets you know who she is, and who they are as they cannot believe anyone would refuse them. But later when Nina's little girl disappears, Leda joins in the search and finds her, ingratiating herself into the clan. And as she gets to know Nina, memories of her own life as the mother to two girls bubble up. Switching back and forth between past and present Jessie Buckley (I'm Thinking of Ending Things ) plays the young Lena, and it's a testament to the direction that she and Coleman who aren't physically that similar seem perfect extensions of one another.
A lot of things about Lena are off. She has unexplained dizzy spells. She's abrupt and selfish and flirts with men but then pulls back. And then there's her decision to steal Nina's daughter's doll and pretend to help everyone look for it when the daughter is inconsolable. You're never really sure who she is and what her freedom from her children has won her. But she is without doubt one of the more complex characters written for a woman of late. She's the first one to admit she was never a natural mother.  But as her memories flood in, you see that she was at one time capable of being a loving parent, but that her resentment of them slowing took over her life.
I can definitely see this one getting some awards season love. Gyllenhaal for writing and direction. And both Coleman and Buckley shine, so actress and supporting perhaps? It's an uncomfortable film, but one of those you can't look away from. I highly recommend it.
In select theaters December 17, on Netflix December 31.