Currently browsing the "
nuns

" tag.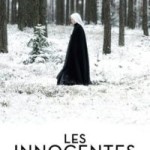 The Innocents is a brutally beautiful film based on the true story of a young woman doctor sent to Poland with the French Red Cross to aid survivors of the concentration camps after WWII. She reluctantly agrees to help a local nun only to discover a convent filled with pregnant sisters, shamed victims of the victorious Soviet soldiers' horrifying gang rapes. Co-written and directed by Anne Fontaine (Coco Before Channel) the film is a multi-layered exploration of faith tested to its limits. But fear not! It is not a downer flick. It is thoughtful and ultimately uplifting.
Ida is one of those extremely beautiful but ultimately depressing films. It is the story of an 18-year-old Polish orphan who was brought up by nuns and is about to take her vows, but first she has to visit an Aunt she knew nothing about, because her Mother Superior insists they meet before deciding on her future. The film is mostly her road trip with this aunt named Wanda to discover who she is and what happened to her family during World War II. It is also her first taste of the outside world, with the sad, alcoholic aunt as her tour guide.