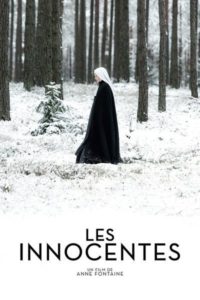 The Innocents is a brutally beautiful film based on the true story of a young woman doctor sent to Poland with the French Red Cross to aid survivors of the concentration camps after WWII. She reluctantly agrees to help a local nun only to discover a convent filled with pregnant sisters, shamed victims of the victorious Soviet soldiers' horrifying gang rapes. Co-written and directed by Anne Fontaine (Coco Before Channel) the film is a multi-layered exploration of faith tested to its limits. But fear not! It is not a downer flick. It is thoughtful and ultimately uplifting.
Initially, the young doctor Mathilde (Lou de Laage) turns away the shy nun who arrives begging her to help with a gravely ill sister back at the convent, telling her to get a Russian or a Polish doctor. But once you understand the situation it is clear why she would ask for a foreigner. The nuns don't want their community to know what happened or another Russian to set foot inside the convent ever again. Seven are pregnant, and one is in labor when Mathilde arrives. Their trauma is in perfect contrast with the beautiful songs they sing during prayers throughout the film. And each of them is dealing with her ordeal in her own fashion. Many are afraid to let the doctor touch them, seeing it as a breach of their vows of chastity. Some are loving with their infants. Others unsure of what to do.
The stern Mother Abbess (Agata Kulesza, of Ida) views the pregnancies and the resulting children as an impediment to the sisters' faith, as well as a danger to the future of the abbey. She makes a shocking decision even though she understands it will condemn hers to eternal damnation.
But it is Maria (Agata Buzek), the nun who first came for Mathilde who is the heart and soul of the film. She is the conduit between the inner and out worlds, between the faithful and the faithless, between before and after the brutality. She had a secular life before the convent and is able to relate to Mathilde as none of the others can. And faithless Mathilde comes to care deeply for these cloistered women. There are feminist themes running through the film, and the film is definitely an ode to sisterhood. The majority of war films are about the men, but this one is about the women left in the wake of war. It is definitely worth your time.
No Comments Yet
You can be the first to comment!
Leave a comment