Currently browsing the "
Once Upon a Time in Hollywood

" tag.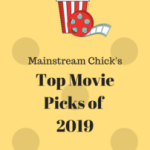 2019 was a good year for movies. I liked a lot of what I saw, and I saw a lot. 200+ films. Blockbusters, documentaries, foreign films, indies. However, for the first time in several years, I don't have any runaway favorites. No definitive number ones, twos or threes. It's more like a 10-way tie for number five that could easily have been a 30-way tie. So take the list (and the order) with a grain of salt, knowing that I enjoyed all these films – and many more – for different reasons at different times depending on my mood and cinematic headspace.