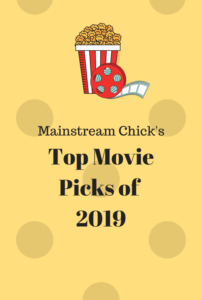 2019 was a good year for movies. I liked a lot of what I saw, and I saw a lot. 200+ films. Blockbusters, documentaries, foreign films, indies. However, for the first time in several years, I don't have any runaway favorites. No definitive number ones, twos or threes. It's more like a 10-way tie for number five that could easily have been a 30-way tie. So take the list (and the order) with a grain of salt, knowing that I enjoyed all these films – and many more – for different reasons at different times depending on my mood and cinematic headspace.
10. Knives Out / Once Upon a Time in Hollywood (tie) – Knives Out features a spectacular ensemble of actors (Christopher Plummer, Daniel Craig, Chris Evans, Jamie Lee Curtis, Toni Collette, etc.) relishing their roles in a thoroughly engaging and entertaining modern-day whodunnit, while Once Upon a Time in Hollywood is a star-studded salute to Old Hollywood as only Quentin Tarantino can deliver, with a big assist from Leo DiCaprio, Brad Pitt and some amazing cinematography and production design.
9. Blinded by the Light – Inspired by a true story, Blinded by the Light is a feel-good movie that balances humor, drama, 80s nostalgia, economic and political relevance, and a killer soundtrack featuring the Boss, Bruce Springsteen. Bruuuuuuuuuce!
8. 1917 – Director Sam Mendes creates a visceral, immersive experience best seen on the big screen, as two young British soldiers make a perilous journey across enemy lines at the height of WWI to try and prevent a deadly ambush. The film is brilliantly shot and edited to feel like one continuous take.
7. Little Women – Writer/director Greta Gerwig managed to defy the skeptics and create a new and refreshing adaptation of Louisa May Alcott's oft-adapted 1860s novel about the four March sisters, Jo (Saoirse Ronan), Meg (Emma Watson), Amy (Florence Pugh) and Beth (Eliza Scanlen). I wasn't too keen on some of the time-shifting within the film, but the actors are all great and the end result feels both classic and contemporary.
6. Booksmart – Two high school besties (Kaitlyn Dever, Beanie Feldstein) have an epiphany on the eve of graduation that they put academic achievement too far above fun, so they try and make up for lost time in one crazy night. This smart, entertaining film (Olivia Wilde's directorial debut) about friendship and choices deserved better at the box office.
5. A Beautiful Day in the Neighborhood – Did anyone leave this film not feeling just a little bit inspired to be a better, kinder person? That's why it makes the cut.
4. Jojo Rabbit – Don't worry, Jojo Rabbit does not glorify Hitler. It's quirky satire, brilliantly executed by screenwriter/director/actor Taika Waititi. This entertaining and thought-provoking film ranks high for its originality and relevance – and excellent performances all around. Wait 10-15 minutes for the weirdness factor to settle in; the pay-off is worth it.
3. Apollo 11 – 2019 was a banner year for documentaries, but this particular one soars to the top for providing an amazing new perspective on the iconic moon landing 50 years ago. It's tense, immersive, informative and entertaining – especially in IMAX. I saw it twice on the giant screen. I hope it stays on the IMAX circuit for many years to come so more folks can appreciate the magnitude of it all.
2. Ford v Ferrari – Two great actors (Matt Damon and Christian Bale) play two racing legends who worked together to help the American Ford Motor Company beat Italian racecar legend Enzo Ferrari's team at the 1966 24 Hours of Le Mans Race in France. You don't have to be a racing buff (at all) to appreciate this sports underdog movie that has the heart and soul of a friendship and family drama. It's a crowd-pleaser based on a true story. I love those!
1. Avengers: Endgame – Sure, I'll probably take some flak for putting this on my list, let alone at the top. But I have my reasons. The clincher came when I saw Star Wars: The Rise of Skywalker a few weeks ago and realized how near impossible it can be to close the loop on an epic story in truly epic fashion. Avengers: Endgame did just that (setting a bar that Skywalker could not touch). Endgame completed the Iron Man/Captain America story arc while giving many other key players their individual moments to shine. Looking back, Endgame was my favorite "movie experience" of the year. I totally get that fans of epic "cinema" like The Irishman may not agree. But for my money, three hours of superheroes is far more appealing than 3 ½ hours of mobsters. Besides, this is my list. Feel free to share yours in the comments section below.
To hear me defend my list against another, tune in to this special edition of the Cinema Clash!