Currently browsing the "
Parasite

" tag.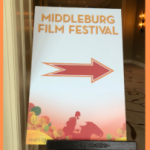 There's something addictive about the Middleburg Film Festival. It's not like I rank among press that is comped for transportation, put up in the festival's home base – the swanky Salamander Resort & Spa – or extended an invitation to the private parties (crashing them notwithstanding). No, I must take a break from my 'day job', make the hour-plus drive from Maryland into Virginia horse country, and plant myself (along with a couple of equally budget-conscious movie gal pals) at a Hampton Inn about 18 miles southeast of the bucolic venues – all for the privilege of waiting in long lines to watch a slew of movies on straight-backed wooden chairs with minimal posterior padding.
And oh what a privilege it is. For real!