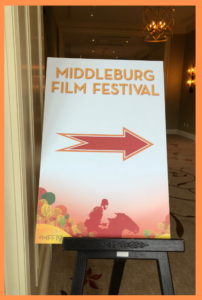 There's something addictive about the Middleburg Film Festival. It's not like I rank among press that is comped for transportation, put up in the festival's home base – the swanky Salamander Resort & Spa – or extended an invitation to the private parties (crashing them notwithstanding). No, I must take a break from my 'day job', make the hour-plus drive from Maryland into Virginia horse country, and plant myself (along with a couple of equally budget-conscious movie gal pals) at a Hampton Inn about 18 miles southeast of the bucolic venues – all for the privilege of waiting in long lines to watch a slew of movies on straight-backed wooden chairs with minimal posterior padding.
And oh what a privilege it is. For real!
This was my fourth year in a row attending "MFF" which started (without me) in 2013. I love being able to reconnect with film-buff friends, swap stories with the dedicated volunteers, and chat with random folks at the screenings, in line, and around town. That's more fun than the films themselves, which often end up vying for top honors throughout the awards season.
I didn't have a chance to see everything on my list. Tough choices had to be made. Food and sleep occasionally won out. But here's a brief rundown of what I did see, in order.
Parasite. This dark comedic tale about the intersecting lives of two families – one rich, one poor – is South Korea's submission to the Academy for Best International Feature Film. It takes a rather heart-wrenching and violent turn that I didn't particularly care for, but others around me were raving, so what do I know? Well, I know it will probably win an Oscar. Despite my squeamishness toward the end, there's plenty to chew on with the parasite metaphor, and it makes the upstairs/downstairs shenanigans of Downton Abbey seem downright quaint. Click here to watch the trailer.
Marriage Story. The official opening-night film socked everyone in the gut with (MFF Spotlight Director Award Winner) Noah Baumbach's dialogue-heavy, character-driven story about marriage, and divorce. Featuring raw, authentic performances from Adam Driver and Scarlett Johannson, it's a compelling look at the break-up of a marriage, a bi-coastal custody battle, and lots of family dynamics. It's absorbing, though not exactly entertaining. Reminded me a bit of Kramer vs. Kramer. Click here to watch the trailer.
A Beautiful Day in the Neighborhood. Oh thank god, a feel-good movie!! The first film of the first full day of the festival put everyone in a kind, sentimental mood. Tom Hanks perfectly captures the essence of Mister Rogers, though this film is actually more about Rogers' influence on a cynical and jaded magazine writer (Matthew Rhys) assigned to do a brief profile on the children's television icon. It's loosely based on a true story and the real-life friendship that developed between the two men. Makes a perfect companion piece to last year's documentary, Won't You Be My Neighbor. In these trying times, the more Mister Rogers, the better. Click here to watch the trailer. 
The Aeronauts. Mister Rogers is a tough act to follow. But I kept my hopes high for the re-teaming of Eddie Redmayne and Felicity Jones (The Theory of Everything) as a pair of adventurers trying to set a world record – and prove you can predict the weather – by sailing a hot-air balloon thousands of feet up into frigid skies in 1862. Oxygen deprivation is never a good thing. The Tom Harper-directed film, inspired by true events, has some great special effects and cinematography but overall drifts more than it soars. Click here to watch the trailer.
Frankie. I so wanted to like this movie, because it features a phenomenal ensemble cast led by French actress Isabelle Huppert, playing a renowned actress who summons her unconventional extended family for a holiday at a picturesque seaside villa in Portugal – because she's dying. Brendan Gleeson, Marisa Tomei, Greg Kinnear, Jeremie Renier. They all deliver excellent performances in a film where the setting is gorgeous, but nothing much happens. Click here to watch the trailer.
Waves. This film became a must-see because my podcast partner Charlie Juhl and I were slated to interview the director Trey Edward Shults and two of the acto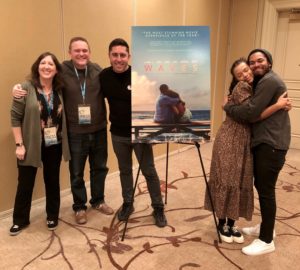 rs, Kelvin Harrison, Jr. and Taylor Russell, the following afternoon (the proof is in the pic!).
Waves is a bittersweet, intense drama about an affluent African-American family in suburban South Florida whose picture-perfect world begins to unravel, and tragedy ensues. The film is constructed in a rather unconventional way, in two distinct parts separated by a climactic event in the middle. Best to just go along for the ride, even if it does take some uncomfortable turns. The strong ensemble cast includes Sterling K. Brown, Renee Elise Goldsberry, Alexa Demie and Lucas Hedges. There's some major sensory overload going on, particularly in the first half, and this film won't be everyone's cup of tea. But again – excellent performances all around. (note: Shults, Harrison and Russell were an absolute pleasure to talk to. More on that later, on a future episode of the Cinema Clash.) Click here to watch the trailer.
The Report. Another day, another dose of the awesome Adam Driver! It's weird watching a rather serious film at 9:30 am on a Saturday morning, but The Report is its own sort of wake-up call. It's a political thriller based on actual events surrounding a Senate Intelligence Committee investigation into the CIA's 'Detention and Interrogation' (i.e. torture) Program in the aftermath of 9/11. Driver plays idealistic staffer Daniel Jones, who spent years putting together a controversial, still largely-classified 6,700 page report for his boss, Senator Dianne Feinstein (Annette Bening). It's Zero Dark Thirty, inside the Beltway; an interesting story that preaches to the choir. Unfortunately, those who really should see it probably won't. Click here to watch the trailer.
[Intermission: Time to conduct the aforementioned interview with the folks from Waves and record a special episode of the Cinema Clash on location. This year, the festival staff provided an onsite podcast studio complete with a sound engineer. Much appreciated!]

Ford v Ferrari. The Saturday night 'Centerpiece' film turned out to be my final –and perhaps favorite – screening of the weekend. Ford v Ferrari doesn't scream cinematic greatness, but it does have all the key ingredients for an awards-season crowd-pleaser: two phenomenal actors (Matt Damon and Christian Bale), a true story imbued with drama and heart, and an adrenaline rush that carries the film to the finish line. FvF is a classic sports underdog story about two racing legends, Carroll Shelby and Ken Miles, who helped the Ford Motor Company build and race a car that could hold its own against Italian racing icon Enzo Ferrari's team at the 1966 24 Hours of Le Mans Race in France. More importantly, it's about the friendship between the two men, so you don't have to be a motorsports fan to get on board. Click here to watch the trailer.
Speaking of the Art of Racing in the Rain (oh wait, that was a different movie), I opted to make my way home in the driving rain on Sunday rather than stick around for the closing film, the three-and-a-half-hour epic, The Irishman. But not before attending the one event that truly sets Middleburg apart from other film festivals: the presentation of its Distinguished Film Composer Award.
This year, festival attendees were treated to a musical tribute to six-time Grammy Award-winning trumpeter and Academy Award-nominated film composer Terence Blanchard, who has scored more than 40 films and is a frequent collaborator with Spike Lee and Kasi Lemmons (whose new film Harriet was shown at the festival). Blanchard was on hand to talk about the creative process, and play trumpet alongside his E-Collective band and a 30-piece orchestra. They performed selections from Blanchard's scoring repertoire – with images from Mo' Better Blues, When the Levees Broke, Miracle at St. Anna, The Comedian, BlackkKlansman and Harriet serving as a backdrop.
To say the festival ended on a high note is an understatement.
Bravo, Middleburg.
p.s. For the first time ever, I missed the two films that won the Audience Awards at MFF: The Two Popes won for best narrative film, and Willie won best documentary. I heard great things about both and do plan to see them asap!
p.s.s. Arty Chick saw several of the same flicks, and a few different ones. Check out Arty Chick's Middleburg Download for her perspective on the festival and the films.
A few bonus scenes from the Fest: