Currently browsing the "
Patrick Dempsey

" tag.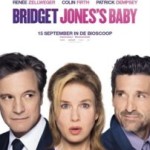 Welcome back, Bridget. As sequels go, this movie is entertaining enough to satisfy most fans of the franchise that chronicles the life of an insecure single woman in London trying to find her place in the world, personally and professionally. As Bridget Jones's Baby opens, we find Bridget (Renée Zellweger) celebrating her 43rd birthday in somewhat pathetic fashion, with a bottle of wine and a cupcake with a candle in it. She's now at her ideal weight and is doing well career-wise, as a news producer. But in the romance department, she's still (or again?) struggling. A free-spirited co-worker (Sarah Solemani) takes Bridget on a 'glamping' trip where Bridget literally falls for the first guy she meets, Jack (Patrick Dempsey, aka McDreamy), and they have a one-night stand. Fast-forward a few days and Bridget runs into her old flame Mark (Colin Firth). The two, um, reconnect. Next thing you know, Bridget discovers that she is pregnant. Who's the Daddy? No spoilers here…
Garry Marshall is brilliant. He made a mildly entertaining movie with an A-List cast and a name that virtually guarantees it a place in holiday rerun history. Valentine's Day is like Crash-light. Really, really, really light. It follows a bunch of folks whose lives intersect in various ways as they break up, make up, find love or survive singledom on Valentine's Day in Los Angeles.