Currently browsing the "
Patrick Schwarzenegger

" tag.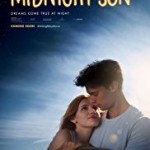 Midnight Sun is like a Nicholas Sparks movie in training. It doesn't pack the emotional wallop of a traditional Sparks tearjerker, but it does try hard to follow the formula. The movie opens with bright sunlight reflecting off the water as a teenage girl describes in voiceover how what we're seeing is all just a dream. She can't really be out in the sun. It might kill her. Thus begins a romantic drama about 17-year-old Katie Price (Bella Thorne) and her nighttime meet-cute with her longtime crush Charlie (Patrick Schwarzenegger) – a guy she's secretly been watching from the tinted windows of her house on the hill for about a decade.