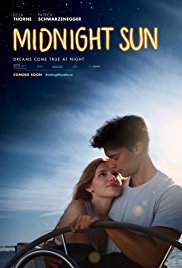 Midnight Sun is like a Nicholas Sparks movie in training. It doesn't pack the emotional wallop of a traditional Sparks tearjerker, but it does try hard to follow the formula. The movie opens with bright sunlight reflecting off the water as a teenage girl describes in voiceover how what we're seeing is all just a dream. She can't really be out in the sun. It might kill her. Thus begins a romantic drama about 17-year-old Katie Price (Bella Thorne) and her nighttime meet-cute with her longtime crush Charlie (Patrick Schwarzenegger) – a guy she's secretly been watching from the tinted windows of her house on the hill for about a decade.
When Charlie stumbles across Katie singing and playing guitar at the local train station, he is instantly smitten. She panics and flees, dropping her notebook of song lyrics. He finds the notebook, then finds her. They go on a few dates (at night). Katie holds off telling Charlie about her life-threatening sensitivity to sunlight. They go on more dates. One date runs particularly late. The sun begins to rise. And their world is shattered.
Midnight Sun is a smidge better than a Lifetime movie. The actors are likeable enough. Bella Thorne has a pleasant singing voice, Patrick Schwarzenegger (offspring of Arnold and Maria) is tentative but okay in his first leading role. Rob Riggle (12 Strong) gets to flex a bit of emotional muscle as Katie's devoted and protective single father. And Quinn Shephard makes the most of her stereotypical, under-developed role as Katie's best friend Morgan.
Midnight Sun is aiming to be a Fault in Our Stars. It doesn't come close, but it doesn't completely implode either. It's a weak impersonation of a by-the-numbers young love-disrupted-by-disease romdram. YAs and Swifties may go for it.
For the record, I didn't need the promotional tissues provided at the screening. I'll just have to save them for the next Nicholas Sparks or John Green movie.