Currently browsing the "
Princess

" tag.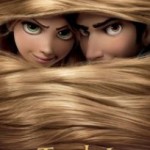 I finally got around to seeing Tangled, and that's only because my 11-year-old niece was willing to see it a second time around. She is, most definitely, its target demographic – but I really liked it too. Tangled is a fun, sweet fairy tale flick reminiscent of Beauty and the Beast. But instead of Beauty's Belle living in her "small provincial town", you've got Rapunzel holed up in a tower in the middle of the forest somewhere. Both are sort of rescued by guys, but when push comes to shove, both gals can kick some butt (only with much more grace and musicality).
What?? You've never even heard of the Hawaiian princess Victoria Kaʻiulani Kalaninuiahilapalapa Kawekiu i Lunalilo Cleghorn? Well, frankly, neither had I. But she does have an interesting life story that is told – and acted- fairly well in this arty indie flick, though it takes a half-hour or so to really get into it. It's a rather strange hybrid of a movie – part biopic, part epic romance, and part docudrama with some scenes that are reminiscent of those cheesy historical reenactments found in documentaries we all watched in grade school (or at the museum). It also features some gorgeous cinematography showcasing the natural beauty of Hawaii.