Currently browsing the "
Ryan Coogler

" tag.
The spirit of the late Chadwick Boseman (T'Challa, Black Panther) looms large throughout Marvel Studios' Wakanda Forever, even as the film—and the franchise—seeks to clear a path to a future without him. The film is both painful and cathartic.
Looking back at my 2018 review of Black Panther, I can't help but note my anticipation for more T'Challa in the years ahead, which is why Boseman's 2020 death from cancer (at age 43) still seems hard to fathom. Wakanda Forever isn't the sequel initially intended, but it's the sequel we've got—and it's a good one. It does Chadwick (and T'Challa) proud.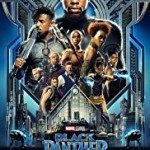 Yes, it is very good. It's even better if you happen to like the genre – at least to some degree. Black Panther works as both a standalone action drama sci-fi superhero movie, and as a worthy addition to the Marvel Cinematic Universe. I'm a big fan of Marvel Studios' Avengers franchise (Captain America, Thor, Iron Man, etc.) so I'm looking forward to seeing a lot more of T'Challa/Black Panther in the near and distant future. He's one cool dude surrounded and protected by a bunch of kickass cool women.