Currently browsing the "
Sam Richardson

" tag.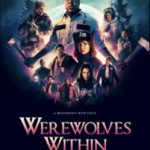 Searching for the right flick to give you those Halloween chills? This horror/comedy based on a video game is your ticket! In it Forest Ranger Finn Wheeler (Sam Richardson, "Veep", "Ted Lasso") arrives in the remote town of Beaverfield in the middle of winter just in time for a series of gruesome attacks. It begins with a dog but escalates quickly and, as the title gives away, it turns out there's a werewolf among the dwindling population of quirky townsfolk, and soon everyone is trying to figure out who it is before they're all supper. Then the power is cut off, and there's a blizzard.
Hey, look – it's Chris Pratt! In a sci-fi movie! With big mean monsters! How… familiar!
The biggest difference between The Tomorrow War and some of Pratt's other big action dramas (Guardians of the Galaxy, Jurassic World, Passengers) is that it's not opening in theaters. It's being released on Amazon Prime. That could be part of the reason I wasn't exactly blown away. It's possible my mere 42" TV screen diminished the film's impact, though not its audio levels. It got very loud in my living room during battle sequences. Sorry neighbors!