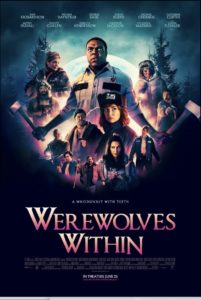 Searching for the right flick to give you those Halloween chills? This horror/comedy based on a video game is your ticket! In it Forest Ranger Finn Wheeler (Sam Richardson, "Veep", "Ted Lasso") arrives in the remote town of Beaverfield in the middle of winter just in time for a series of gruesome attacks. It begins with a dog but escalates quickly and, as the title gives away, it turns out there's a werewolf among the dwindling population of quirky townsfolk, and soon everyone is trying to figure out who it is before they're all supper. Then the power is cut off, and there's a blizzard.
Finn attempts to take charge of the investigation and teams up with perky postal worker Cecily (Milana Vayntrub, Marvel Rising). Everyone in the small town is a big character and many of them are at odds with one another over a rich guy's plan to drill for oil. And when the killing begins they all get together at the inn to figure it out. It takes a while for them to believe it's a werewolf, but after a visiting scientist puts her stamp of expertise on the idea,  it's game on with everyone running around trying to not get killed and find the beast.
It's all pretty silly, and a lot of fun, buoyed by a great cast, a fast paced script, and a goodly amount of twists and turns. And most of the carnage is off screen so it would be a fun family flick, too.
Available on all the usual VOD sites.