Currently browsing the "
Michael Chernus

" tag.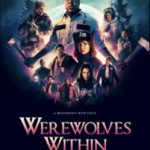 Searching for the right flick to give you those Halloween chills? This horror/comedy based on a video game is your ticket! In it Forest Ranger Finn Wheeler (Sam Richardson, "Veep", "Ted Lasso") arrives in the remote town of Beaverfield in the middle of winter just in time for a series of gruesome attacks. It begins with a dog but escalates quickly and, as the title gives away, it turns out there's a werewolf among the dwindling population of quirky townsfolk, and soon everyone is trying to figure out who it is before they're all supper. Then the power is cut off, and there's a blizzard.
The four women in Materna whose stories collide in a New York subway could not be more different. But they are connected by narratives exploring the theme of "mother", what it means to be one, to have one, to contend with their expectations and our own autonomy. The film is essentially an anthology of four shorts connected by a violent incident on the subway, but each of their stories informs how they will react to their shared experience. It's a fascinating, tension-filled ride.