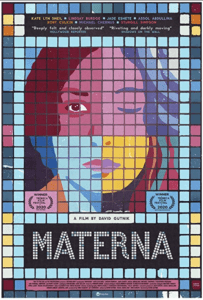 The four women in Materna whose stories collide in a New York subway could not be more different. But they are connected by narratives exploring the theme of "mother", what it means to be one, to have one, to contend with their expectations and our own autonomy. The film is essentially an anthology of four shorts connected by a violent incident on the subway, but each of their stories informs how they will react to their shared experience. It's a fascinating, tension-filled ride.
Jean (Kate Lyn Scheil) is a solitary virtual reality developer who fields calls from her mother reminding her that the clock is ticking on marriage and family. But her work is rooted in women's autonomy, and a surprise pregnancy makes her rethink everything. Ruth (Lindsay Burdge) is a wealthy a stay-at-home mom. She's politically conservative, but her  world is shaken by an incident at her son's school and her liberal brother's (Rory Culkin) reaction to it.  Mona (Jade Eshete) is an actress. Her mother is a deeply religious woman putting pressure on her to return to the fold, but she's able to use that relationship to get to the truth of a new role. And Perizad (Assol Abdullina) is a Kyrgyzstanian woman who returns home after the death of her father and must contend with her mother and grandmother and open old wounds.
The film treats each story as a whole but cuts back between them to the subway where a man is becoming more and more threatening to them all. And as you know a bit more each time about the women their reactions make more sense. It's a very smart and effective construction.  I could see all of the stories expanded into their own films. A couple are stronger than the others, but as a whole it works incredibly well.  All the actresses do a great job, with two of them (Eshete and Abdullina) even sharing writing credit on the film. I really liked this women-centered film and highly recommend it to my female flick fans.
The film is open now in limited release and will be available online starting August 10th.