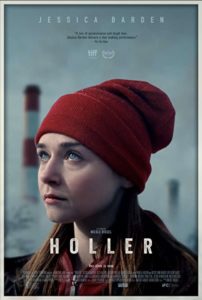 Set in the grim milieu of America's Rust Belt, Holler is Ruth's story.  Wicked smart and strangled by her impoverished circumstances, she and her older brother Blaze (Gus Halper) are just keeping their heads above water and her future is not looking up. Drug addicted Mom (Pamela Adlon) is in prison, waiting for a place in rehab, and Ruth and her brother are in serious danger of eviction. They spend all their free time searching for cans to sell to the local scrap yard. But Ruth is about to graduate and unbeknownst to her Blaze mailed in the college application she'd fill out, and she was accepted. She just needs to find the funds to get there. And there's the rub.
Scrap dealer Hark (Austin Amelio, "The Walking Dead") who they sold cans to also has a side hustle sneaking into shuttered factories and stripping them of all sorts of metals that the Chinese will pay big bucks for. And he talks Ruth and Blaze into becoming part of his clandestine thievery, promising them a big cut of the pot.  Of course that comes with risks that eventually prove too much for Ruth to bear.
Throughout the film, Ruth is met with low expectations, from her mother who tells her that "people like us don't go to college", to the high school counselor who sees no future for a kid like her, to the scrap dealer who thinks she's just another dumb townie until she casually catches an error in an invoice that would have cost him thousands of dollars. Blaze is the only one who sees her for her potential and is willing to do anything to get her out of this cruel cycle of poverty.
Ruth is definitely a break-out turn for Jessica Barden. Her performance had me thinking of Jennifer Lawrence in Winter's Bone. She plays Ruth with a similar quiet determination. The film from first time writer/director Nicole Riegel is an impressive debut, and even though the poor kid makes good in the midwest story has been told before, centering it on Ruth and her mix of vulnerability and anger gives it a palpable emotional depth. If you were a fan of Nomadland and aren't put off by bleak narratives, you'll appreciate this little indie.
Streaming now on all the usual platforms.