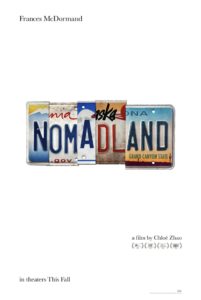 Nomadland is not a film that is easy to categorize. It's a hybrid drama/documentary, an adaptation of the non-fiction book "Nomadland: Surviving America in the Twenty-First Century", centered on a 60ish widow whose life has taken a downturn following the 2008 Great Recession, so she lives in a van and floats from campground to campground getting to know the other denizens in the same boat. Directed by Chloé Zhao who helmed The Rider in 2018, it continues her penchant for taking a true story and fictionalizing it with actors alongside non-actors who are part of the real story. The wonderful Frances McDormand (Three Billboards Outside Ebbing, Missouri, Fargo) stars as Fern. She's solitary and resolute and not one to feel sorry for herself or her situation. It's a quietly powerful film, with a dark undercurrent in a subculture of forgotten seniors barely scratching by, but doing it together.
Early in the film Fern is offered a permanent place to stay, but she turns it down, preferring her van, which she's proud to have built out to her specifications. She's making ends meet by working a string of jobs, driving to wherever she can get a gig, hitting Amazon for the Christmas rush, Wall Drug in South Dakota for the tourist season, heading north for the beet harvest, and sharing campground host duties with one of her other nomad pals. She meets up with several of the same people as she travels around Middle America, and they share their stories and their hospitality. There is a solidarity among them and kindness, too.
Who Fern is and was is revealed in bits through the film. But it's clear, she's always had a streak of independence and while her circumstances might look sad from the outside, it's where she wants to be. The film is filled with shots of her in her van on desolate roads, but it is a cinematic solitude. America the beautiful and all that. The always solid David Strathairn is the only other recognizable actor in the film. He plays a fellow nomad who reappears in her life throughout the film and is teased as a love interest. But the film belongs to Fern, and McDormand will most likely get an Oscar nomination for her tender performance.
I don't think Nomadland is a film for everyone though. It's slow and contemplative. But if that's the kind of film that you appreciate, as I do, definitely put this on your list.
[Mainstream Chick's take: I completely agree with everything Arty wrote – including the last line. Nomadland is indeed slow and contemplative and not for everyone. More for the indie/arty crowd. I'm glad I saw it, because there's no doubt the fabulous Frances McDormand will be in the running for another Oscar, and Chloé Zhao could make the cut for directing, and the film itself could very well make the short list for best film. Nomadland did leave me yearning for a good road trip. But I still prefer bathrooms over buckets. -hb]
The film will be in theaters only beginning Dec. 4. It's scheduled for streaming sometime in 2021.