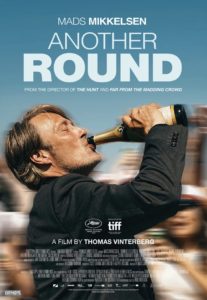 Thomas Vinterberg (The Celebration, Far From the Madding Crowd) directed Mads Michelsen in The Hunt back 2013. In it Mikkelsen played a kindergarten teacher accused of a horrible crime he didn't commit. In their latest collaboration Mikkelsen again plays a teacher, but this time he's an older and more tired high school history teacher named Martin. One evening at his friend's 40th birthday party, he and three of his fellow teachers who're also stuck in a rut decided to test a theory about the benefits of controlled drinking to increase "social and professional performance." It's a strange and uncomfortable premise that somehow makes for an engaging dramedy.
Following the Ernest Hemingway model, they agree to only drink during the day until 8 pm. No nights or weekends. And each of them has a flask and a breathalyzer stashed away at school. They must keep their blood alcohol levels at .05%. And at first, it proves their hypothesis. They all get back that energy they've been lacking. Classes become more interesting and Martin even begins to enjoy his home life again. But of course they can't all keep it under control. And while some of their drunken antics are funny, there are also tragic consequences.
The film isn't so much about the drinking as about how their shared experiment allows them to find themselves again. I've never been one to laugh at drunks, since alcoholism isn't a laughing matter, but the way the film depicts these men and their awakening to themselves is pretty warm and honest. I recommend it to foreign film lovers and people looking for an adult drama to stream with a glass of wine (just one). Another Round ends with Mads Mikkelsen exuberantly dancing on the docks at the high school graduation party, and that alone is worth the price of admission.
In theaters Dec. 4th. Streaming Dec. 18th. It's the official submission of Denmark for the Best International Feature Film category of the 93rd Academy Awards in 2021.
[Mainstream Chick's take: I felt like I had to finally imbibe Another Round to prep for the Oscars now that the film is officially nominated for Best International Feature Film and its Danish director Vinterberg nabbed a Best Director nomination. The latter alone leads me to believe the film has a shot at winning in the International Feature (aka foreign film) category. Another Round is a certainly an intriguing watch but the message isn't exactly the best to send, i.e. that if you're able to drink to maintain a certain blood alcohol level, you may notice a significant boost to your social and professional personas. Sure, there's an uh-oh consequence or two, but one could argue the experiment yields significant 'proof' of theory before it goes awry. Mads Mikkelsen fans will want to watch for his performance, and the aforementioned dance scene at the end. I don't think it's the 'best' of the bunch, but it may win anyway. -hb]