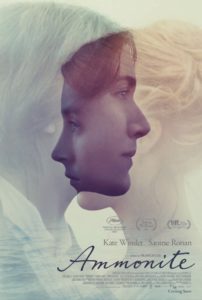 Set on the wild Dorset coast in the 1840s, Ammonite begins with a real life historical figure, Mary Anning, who was an early paleontologist in an era where women were not respected as scientists. But she was an exception, and her discoveries changed the world. In this fictionalized interlude, Mary is played by Kate Winslet (Titanic, Sense and Sensibility). She's past the time of her great discoveries and already famous to other paleontologists. And when one of them visits, hoping she'll take him for a guided dig, serendipity brings her together with his young and pretty wife Charlotte Murchison (Saoirse Ronan, Little Women, Lady Bird), and they develop an intense bond.
Charlotte's husband has to leave town, and since she is still suffering over the loss of a child and in a very fragile state, he hires Mary to look after her. Mary is reluctant, and something of a curmudgeon, but they forge an uneasy friendship. But when Charlotte falls ill, Mary takes her into her home (and bed) and they develop an even deeper relationship slowly evolving into a full blown lesbian coupling. In between Charlotte gets well, they head out to the beach a few times and look for fossils, and the two of them gaze longingly at one another.
Ammonite works mainly because of the two leads. And visually, it sings. Narratively though, it's pretty uncreative, an obvious metaphor about Mary being in her shell just waiting to be broken out, just like one of her fossils. As for the historic record, the lesbian story is dubious. And that the filmmaker decided to strip Charlotte Murchison of her actual credibility as a geologist and make her the frail beauty is a head scratcher. Nevertheless, there is very little of the science, and it's mostly a Victorian lesbian romance. If that's your cup of tea, then it's streaming now.
Rated R – for the explicit sex scenes.