Currently browsing the "
Gemma Jones

" tag.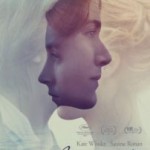 Set on the wild Dorset coast in the 1840s, Ammonite begins with a real life historical figure, Mary Anning, who was an early paleontologist in an era where women were not respected as scientists. But she was an exception, and her discoveries changed the world. In this fictionalized interlude, Mary is played by Kate Winslet (Titanic, Sense and Sensibility). She's past the time of her great discoveries and already famous to other paleontologists. And when one of them visits, hoping she'll take him for a guided dig, serendipity brings her together with his young and pretty wife Charlotte Murchison (Saoirse Ronan, Little Women, Lady Bird), and they develop an intense bond.
Woody Allen's latest is set in London and in early voiceover we are treated to a quote from Macbeth. "Life's but a walking shadow …a tale told by an idiot, full of sound and fury, signifying nothing." Woody might have been reviewing his own film. You Will Meet a Tall Dark Stranger isn't really full of sound and fury but ultimately isn't about anything except life. It takes a family and follows their individual stories as they split up, marry, lust from afar and get on with it.