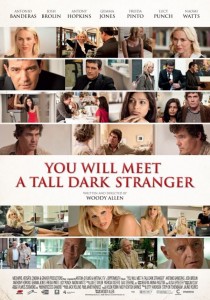 Woody Allen's latest is set in London and in early voiceover we are treated to a quote from Macbeth. "Life's but a walking shadow …a tale told by an idiot, full of sound and fury, signifying nothing." Woody might have been reviewing his own film. You Will Meet a Tall Dark Stranger isn't really full of sound and fury but ultimately isn't about anything except life. It takes a family and follows their individual stories as they split up, marry, lust from afar and get on with it.
It does have one of Woody's usual great casts. Anthony Hopkins plays the father of the piece, Alfie, who awakens to his aging and sheds his faithful wife (Gemma Jones) for a young blonde hooker named Charmaine (Lucy Punch.) Meanwhile, daughter Sally (Naomi Watts) is married to ne'er-do-well writer Roy (Josh Brolin) and she is just beginning a new job at a prestigious art gallery run by very hot Greg (Antonio Banderas) who just happens to be having his own marital problems. At home, hubby Roy is having a very hard time finishing his novel and his attention is further diverted when a beautiful woman named Dia (Freida Pinto) moves into the apartment just behind his. So pretty much everyone is looking
elsewhere for love and fulfillment and Mom is going to a psychic who tells her she will meet a tall dark stranger and in the end she is the only one who gets what she was after.
Despite the great cast, You Will Meet a Tall Dark Stranger is really not very good. The characters don't seem true and the choices they make are not convincing. It isn't very funny or very dramatic. And there is Josh Brolin's inexplicably bad hair. I am a Woody Allen fan from way back. I loved Vicky Cristina Barcelona and many others, but we all know he just keeps churning them out and he hits it about a third of the time. This one is a miss, a mess, not a must. Wait to see it on a plane.