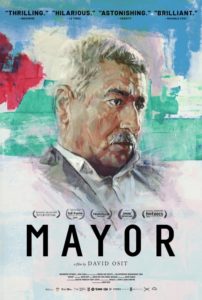 2020 has been a great year for documentary. Maybe pandemic viewing has made it so, but many of my faves this year are of the non-fiction genre. Mayor is now added to that list. Shot over a few months in 2017, it's an eye-opening look at the Palestinian city of Ramallah in the West Bank through the eyes of its Christian mayor Musa Hadid. He's charismatic and funny and deeply committed to ending the occupation and letting his people live with respect. He also wants to have a town square to rival Vegas.
The film follows Hadid through his days, dealing with crumbling infrastructure, city council meetings, and the horrifying bureaucracy that exists with the militarized Israeli occupiers. Sewage runs in the streets, but Ramallah has to depend on Israel to fix it since they aren't allowed to have their own system. Israeli soldiers with machine guns are a common sight on the streets. But life must go on and Hadid struggles with city government problems just as any other mayor. He is by turns intelligent and weary and angry. And midway through the film violence is brought to a pitch when the Trump administration decides to move the embassy to Jerusalem, a city the Palestinians maintain belongs in part to them.
I've read about life under the occupation before, but this you-are-there telling lets you feel just what it's really like. Ramallah is a modern cosmopolitan city just 10 miles from Jerusalem, but it's easier for Hadid to travel to Washington than there. Mayor is a very different view of the Palestinian-Israeli conflict than is commonly given and a necessary corrective to the stories told about that part of the world. And using Hadid as the guide is a smart move. He's a caring and decent man I think most people would enjoy meeting. I recommend this film to wide audiences.
[Mainstream Chick's take: MAYOR is a very interesting film to watch because it offers such a different perspective from other documentaries relating to the Israeli-Palestinian conflict. It's very much an observational drama that takes you into the City Hall of a small Palestinian metropolis that is struggling to find its identity, and to balance how to function somewhat normally in the midst of dangerous, routine confrontations with Israeli security forces. – hb]
MAYOR is streaming at virtual theaters around the country. Check this list for your local movie house.