Currently browsing the "
Sam Shepard

" tag.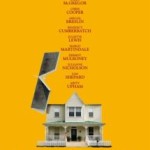 In the battle of Meryl vs Julia, who will chew more scenery? August: Osage County pits them against each other as the drug addicted Mom versus the only person in her large extended family capable of taking her on. Based on a stage play of the same name, it is a star-studded dramedy about what must be the most dysfunctional family in the state of Oklahoma all coming together after a tragedy. None of them want to be there, and I started to feel the same way, but stuck with it because it's one of those acting slugfests you just have to see through.
Mud is a fairly straightforward adventure/coming-of-age story about a 14-year-old boy's struggle to understand love and romance, while aiding and abetting a lovelorn criminal. Matthew McConaughey plays a fugitive named Mud, who happens to be hiding out on an island that teenagers Ellis (Tye Sheridan, Tree of Life) and Neckbone (Jacob Lofland)) have an interest in. When they meet up, they enter into an arrangement.