Mud is a fairly straightforward adventure/coming-of-age story about a 14-year-old boy's struggle to understand love and romance, while aiding and abetting a lovelorn criminal. Matthew McConaughey plays a fugitive named Mud, who happens to be hiding out on an island that teenagers Ellis (Tye Sheridan, Tree of Life) and Neckbone (Jacob Lofland)) have an interest in. When they meet up, they enter into an arrangement.
The film takes place in the Arkansas Delta, where best friends Ellis and Neckbone and their families live off the river, subsisting at poverty level. But the boys are always looking for adventure, and as the story begins, they're heading out to an island, knowing that if their parents found out they'd be in trouble. But there is this boat up in a tree, probably washed there by a flood, and they have staked their claim on it. Unfortunately, when they get there, someone else is living in it — a superstitious and charming character named Mud who tells the boys he is there waiting for someone. He'd like the boys to bring him some food, which they do, because even though they don't really trust him, it is an adventure, keeping this secret from everyone, especially after they see the wanted posters. Pressed for more info by the boys, Mud explains he is waiting for the love of his life, Juniper (Reese Witherspoon), for whom he committed a crime of passion, and a whole lot of mean-ass people are after him for retribution. Ellis is attracted to the idea that he can bring two lovebirds together. Neckbone, on the other hand, is less romantic and makes a deal to help if Mud gives him his pistol.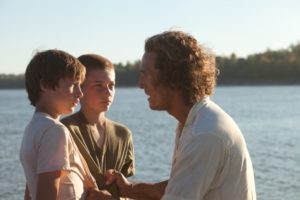 And so the boys help Mud keep his location secret, take notes to Juniper who's living in a cheap motel, and find all the pieces needed to fix the boat and get it out of the tree, all to help Mud sail away with his true love. Of course, things don't go as planned. The undercurrent to the whole movie is Ellis's coming of age. He's crushing on a girl, working at being her boyfriend, and watching his parents' marriage fall apart. And he really just wants true love to conquer all. One of the things Mud does really well is it deals with this kid's eye view of love and commitment. The other thing that makes it very watchable is Matthew McConaughey's performance. It is one of his best. His Mud doesn't rely on his usual pretty boy persona. He's cagey and wounded, and knows he is dependent on two teenagers to save him.
Of course Mud is a big character, but ultimately the film is Ellis's. And fortunately Tye Sheridan is able to bring this boy's tenuous hold on his world to life. Writer/Director Jeff Nichols clearly understands that stage where teenage boys are grappling with the meaning of relationships, and brings out the kid and the adult in Ellis. I'd recommend Mud for the whole family, at least pre-teens and older. (It is rated PG-13.) There are no big special effects or sweeping camera moves. It depends entirely on what may seem to be a lost art these days — good old-fashioned storytelling that places you in a distinctive place with engaging characters. And it does it quite well, keeping the audience in suspense right up until the end as to whether love will conquer all.