Currently browsing the "
Sarah Silverman

" tag.
Take This Waltz is one of those indies that I kept thinking might have a different sense of pace and was maybe just going to take a bit of breath before it got going, and then it would make the ride worth my time. But sadly, I was wrong. It promises to be a love story, but love is what is missing. Instead there is a lot of weird cutsieness that I guess is supposed to be a good substitute for romance, but ends up being pretty annoying.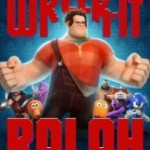 Yay! A really good family movie that you should be taking the kids to (rather than the not-so-family-friendly movie Fun Size that young'uns brainwashed by Nickelodeon may be clamoring to see). Wreck-It Ralph is reminiscent of one of my favorite animated movies of all time, Toy Story (1, 2 and 3). Wreck It doesn't quite rise to TS levels, but it gets pretty darn close – and you don't have to be a "gamer" to get sucked in.