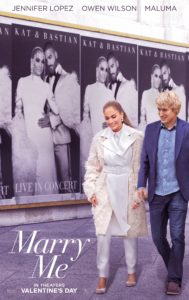 If you've never seen Notting Hill (1999), I strongly advise you watch that particular romcom before stepping into a theater– or onto a Peacock (network)– to see Marry Me. The premise is similar but the execution of the Julia Roberts-Hugh Grant classic is sooooo much better. If you've already seen Notting Hill (a few dozen times), then you will be forgiven if drawn into the fluffy imitation starring the likeable duo of Jennifer Lopez and Owen Wilson.
In Marry Me, JLo plays Kat Valdez, a hot Latin pop star poised to tie the knot in front of 20 million 'followers' to hot Latin pop star Bastian (Maluma, making his feature-film debut). They are a celebrity power couple bonded by the success of their steamy duet "Marry Me", social media platforms galore, and supposedly love–until Bastian is caught cheating on Kat–with her assistant no less! So what's a girl to do when betrayed on her wedding day? Pick a random guy out of the crowd at her sold-out concert and marry him instead.
The guy isn't even a Kat fan. He's Charlie Gilbert (Wilson), a divorced high-school math teacher who's been dragged to the concert by his daughter Lou (Chloe Coleman, My Spy) and his gay best friend Parker (Sarah Silverman). What starts as an impulsive union destined for annulment quickly evolves into something more. Kat learns to embrace math; Charlie learns to embrace social media. Sort of. Maybe this could work out after all?
It's a romcom. Place your bets.
Marry Me is like a special episode of "90-second fiance" that benefits from a solid cast and some catchy original songs to engage an audience. The stakes are virtually non-existent. The drama is virtually non-existent. And there's absolutely no doubt where the relationship is going. Even 'bad boy' Sebastian isn't all that bad– just unfaithful and untrustworthy. He's still cute and sings good.
The movie is based on a graphic novel by Bobby Crosby. Maybe the book has more of a hook — I don't know. But obviously JLo and Wilson saw something in the storyline that appealed. Perhaps the chance to deliver pandemic-weary audiences a sweet, harmless fairly tale about love, spontaneity and taking chances in life.
As the saying goes– all is fair in love and math. Or something like that.
Marry Me opens in theaters and starts streaming exclusively on Peacock on February 11.
No Comments Yet
You can be the first to comment!
Leave a comment