Currently browsing the "
Simon McBurney

" tag.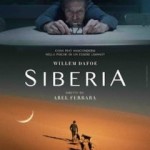 The bromance between director Abel Ferrara and Willem Dafoe has reached its zenith with their latest collaboration. Each year for the last three in June I've watched Dafoe play a man adrift. In Pasolini he was the noted director wandering through Rome right up to his death. In Tommaso he was Ferrara's stand-in, rambling around Rome again as his marriage crumbles and he struggles with his latest film. This time he's a man hiding out in Siberia roaming through his own mental landscape to try and find himself. As with the previous films, there's not much of a clear story line, just a series of scenes that you can arrange into a story of your choosing. I wish I'd chosen to turn it off sooner.
Everything I said and felt about the under-appreciated The Conjuring in July 2013 holds true for The Conjuring 2 – it's GOOD and scary. Trust me, even if you "don't like horror movies" (one of my mantras), these merit an exception, thanks largely to a combination of intriguing true story, creepy suspense, and top-notch acting.