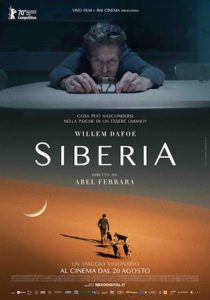 The bromance between director Abel Ferrara and Willem Dafoe has reached its zenith with their latest collaboration. Each year for the last three in June I've watched Dafoe play a man adrift. In Pasolini he was the noted director wandering through Rome right up to his death. In Tommaso he was Ferrara's stand-in, rambling around Rome again as his marriage crumbles and he struggles with his latest film. This time he's a man hiding out in Siberia roaming through his own mental landscape to try and find himself. As with the previous films, there's not much of a clear story line, just a series of scenes that you can arrange into a story of your choosing. I wish I'd chosen to turn it off sooner.
Clint (Dafoe) lives in a remote snowy place. He runs a bar where people drop in from time to time. As in the previous films, sometimes they speak foreign languages and there are no subtitles, and Clint doesn't seem to understand them. A beautiful woman comes in speaking Russian and before you know it, she's shed her coat and is standing naked and pregnant in front of him and they have sex. And that's just a scene that has no relation to anything later.
Clint has a bunch of huskies outside and eventually he hooks them up to a sled and takes off on a journey of self-discovery, where he runs into naked dwarfs (and lots of other naked people), praticers of the dark arts, his ex and his kid, his father and mother, and all sorts of people he needs to see to find whatever it is he's looking for. There's a good amount of blood and violence and sex, and a sojourn in the desert, too. And it ends with a talking fish.
Intrigued? My favorite part was the dogs.