Currently browsing the "
Sundance Winner

" tag.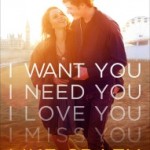 I wasn't crazy for Like Crazy like a lot of people seem to be. Don't get me wrong. I liked it. I just didn't love it. Maybe it's because I'm old(ish) and jaded and have always been more of a realist than a romantic, but this movie just didn't resonate with me. Yes, the performances are excellent from both Anton Yelchin and Felicity Jones, who won a best actress award at Sundance for her role. And the director, Drake Doremus, does a good job of conveying how all consuming first love can be with a lot of tight close-ups of the young couple's adoring, besotted glances, and then of letting the relationship unfold at a languid pace as they try to figure out how to and whether they should stay together. Too bad I didn't really care if they did or not.
Winter's Bone is bleak realism at its best. You may leave the theater happy, but only because no matter what, you'll realize your life is a billion times better than the poor girl's at the center of this film. Jennifer Lawrence plays Ree Dolly, a 17-year-old whose meth-making father has left her with a chronically sick mother and two younger siblings to take care of. When Dad was arrested for drug dealing, he put the house and some timbered acreage up as collateral for his bond and then disappeared. Early on, Ree is informed that unless Dad shows up in court, the house and land will be taken and she and her family will be left homeless. And this is in the most impoverished part of southern Missouri and it is winter.