Currently browsing the "
teen drama

" tag.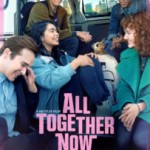 We must be in the final throes of summer, with yet another teen drama based on a popular Young Adult (YA) book. Netflix brings us All Together Now, a sometimes heartbreaking but also uplifting tale about a friendly, selfless, cheery High School teen struggling to stay optimistic in the face of mounting adversity. The film is based on the book "Sorta Like a Rock Star" by Matthew Quick, and the vibe is about what you'd expect from the producers of engaging teen movies Love, Simon and The Fault in Our Stars.
Selah and the Spades is a bit like Mean Girls meets Goodfellas. At Hogwarts. Without the magic. The story takes place at an elite boarding school in Pennsylvania where the student body is run by five factions, dominated by Selah and the Spades – the group responsible for supplying students with a coveted stash of alcohol and drugs. Seventeen-year-old Selah Summers is the Queen Bee. She's a take-charge kind of gal who knows how to manipulate the system – and people – to get things done without getting her own hands dirty. But behind the strong facade is an insecure teen struggling with the prospect of relinquishing control upon graduation and living up to the high academic standards set by her 'Tiger Mom' parents.