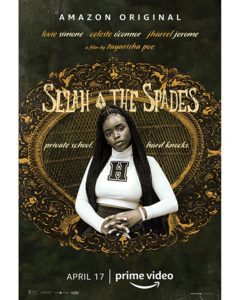 Selah and the Spades is a bit like Mean Girls meets Goodfellas. At Hogwarts. Without the magic. The story takes place at an elite boarding school in Pennsylvania where the student body is run by five factions, dominated by Selah and the Spades – the group responsible for supplying students with a coveted stash of alcohol and drugs. Seventeen-year-old Selah Summers is the Queen Bee. She's a take-charge kind of gal who knows how to manipulate the system – and people – to get things done without getting her own hands dirty. But behind the strong facade is an insecure teen struggling with the prospect of relinquishing control upon graduation and living up to the high academic standards set by her 'Tiger Mom' parents.

The film is largely a character study of Selah (newcomer Lovie Simone) and her friends and rivals as they navigate escalating tensions in their insulated world of politics, power and teenage angst. When Selah's best friend/consigliere Maxxie (Moonlight's Jharrel Jerome) falls for a girl and gets distracted from his "duties," Selah starts grooming an enamored sophomore named Paloma (Celeste O'Connor) to potentially take over the reigns. Their relationship proves complicated, especially as Paloma starts gaining respect and power among her peers. Selah doesn't take kindly to having her authority challenged and things take a somewhat sinister turn.
Selah and the Spades features good performances from fresh young talent and marks a solid feature film debut for Philadelphia-based writer/director Tayarisha Poe, who wanted to leverage her own experiences at boarding school to provide a "heightened, fictional portrayal" of what it's like to come of age in that type of environment, where you're living away from parents and family, forming cliques, and creating your own rules of governance.
We've certainly seen plenty of films with privileged white kids at the center of the prep school action. Selah and the Spades puts a black girl in the greatest position of power, thereby offering a fresh perspective on what might otherwise be a stale premise. Overall, the 89-minute film is on the dull side and never quite finds its dramatic or emotional footing. But I don't think we've seen the last of its young stars. And who knows? Maybe it'll gain some extra traction simply by being a rare "new release" in the midst of the coronavirus shutdown. Selah and the Spades starts streaming on Amazon Prime on Friday, April 17.
No Comments Yet
You can be the first to comment!
Leave a comment