Currently browsing the "
Terence Stamp

" tag.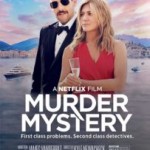 The Netflix original movie Murder Mystery is lame, riddled with clichés, superficial and mildly amusing. And it knows it. Now you know it too and can plan accordingly. Watch with a grain of salt – sprinkled on popcorn – on a hot and humid summer evening that commands mindless indoor entertainment at home, with the A/C on full blast. The title is your first clue to just how seriously this movie takes itself. Murder Mystery is about… da-da-dum… a murder mystery.
Unfinished Song isn't exactly a comedy – unless, perhaps, you're comparing it to the likes of Amour. Then sure, it's a hoot. The film tackles a rather sensitive subject – death – with poignancy and humor and a heavy dose of melancholy. So let's call it what it is – a melanchomedy. It's a slow, sweet and funny indie in the vein of a Quartet or Best Exotic Marigold Hotel.