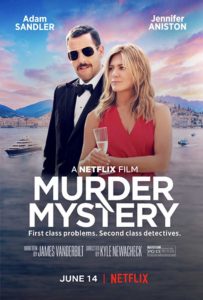 The Netflix original movie Murder Mystery is lame, riddled with clichés, superficial and mildly amusing. And it knows it. Now you know it too and can plan accordingly. Watch with a grain of salt – sprinkled on popcorn – on a hot and humid summer evening that commands mindless indoor entertainment at home, with the A/C on full blast. The title is your first clue to just how seriously this movie takes itself. Murder Mystery is about… da-da-dum… a murder mystery.
The comical whodunnit reunites Adam Sandler and Jennifer Aniston (2011's Just Go With It) as Nick and Audrey Spitz, a working-class couple from NYC who finally take a long-deferred honeymoon trip to Europe – for their 15th anniversary. En route, Audrey sneaks a peek into first class and has a chance encounter with a dashing young gent named Charles Cavendish (Luke Evans) who invites the Spitzes to join him on an intimate gathering of family and friends aboard the yacht of elderly billionaire Malcolm Quince (Terence Stamp). The lights go out just as Quince is about to disinherit a bunch of people. The lights come up, Quince is dead, and the Spitzes are prime suspects. They'll have to dodge the authorities and solve the mystery themselves, or risk getting thrown in the French slammer by local investigator de la Croix (Dany Boon), a cross between Inspectors Clouseau and Perrot. It's Murder on the Orient Express Love Boat meets Hart to Hart and MacMillan and Wife (look 'em up) meets National Lampoon's European Vacation if Clark and Ellen Griswold had left the kids at home.
The prime suspects all resemble a caricature of the type of character you'd find in a game of Clue, or Agatha Christie novel, or episode of Murder She Wrote: an oversexed actress, a professional race car driver, disgruntled adult children, young gold-digger bride, an Army Colonel, a Maharaja (look it up), a viscount (look it up). The actors are an amiable bunch, which makes this corny caper mysteriously tolerable – from the murder, to the manhunt, to the obligatory car chase (in a hot red sportscar, with Audrey at the wheel), to the final reveal.
Don't worry. I won't tell you whodunnit. Just in case it's in your queue.