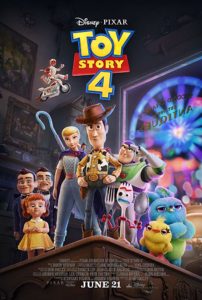 A part of me did not want a Toy Story 4. I was afraid it would diminish the legacy of a storied franchise that left me in a heap of weep in 2010. Toy Story 3 won the Oscar that year for Best Animated Feature, having brought the story of Andy and his precious – and precocious – toys to a perfectly poignant conclusion. As Andy set off for college, he donated Woody, Buzz, and the rest of the gang to a toddler named Bonnie. It was the end of an era; but as we now know, not quite the end of the story.

The sequel to the sequel to the sequel of the 1995 instant classic Toy Story is, as one might expect, quite good. Disney-Pixar rarely disappoints when it comes to balancing animation, adventure, comedy and characters that feel almost human. TS4 doesn't pack anything close to the emotional punch of TS3 (for me, at least). But the more I think about it, the more I'm okay with its existence – particularly as a starting point for a new generation.
Toy Story 4 serves as an addendum to Woody's story as he and his post-Andy kid Bonnie approach a new fork in the road of life, propelled forward by a family roadtrip and the introduction of a handcrafted "toy" fashioned out of a used plastic spork and fuzzy pipe cleaner. "Forky" (Tony Hale) is a reluctant and confused little plaything, immune to Woody's toy mantra that once you've been claimed by a kid like Bonnie, their happiness is your top priority.
When Forky tries to make a run for freedom – toward any trash receptacle – Woody (Tom Hanks) goes after him, and adventure ensues. Woody meets up with his long-lost friend Bo Peep (Annie Potts), gets trapped in an antique store with a creepy doll named Gabby Gabby (Christina Hendricks) and her evil-looking ventriloquist dummy henchmen, and enlists the help of two unclaimed fairground prizes Ducky and Bunny (Keegan-Michael Key and Jordan Peele) as well as Canadian stuntman Duke Caboom (Keanu Reeves), a motorcycle-riding toy with a spectacular knack for crashing.
In typical Toy Story fashion, TS4 is filled with messages and metaphors designed to appeal to both kids and adults. The wee ones may not understand Gabby Gabby's motivations for wanting to steal Woody's pull-string voicebox, or Woody's existential angst about his purpose in life, or Bo Peep's independent spirit and the inner strength beneath her fine porcelain exterior. But they'll get the gist, including Bonnie's anxiety over starting Kindergarten, and her delight in turning trash into a coveted toy. Will there be a Toy Story 5? 6? 7? As long as kids have toys, the Toy Story franchise could potentially survive… to infinity and beyond.
p.s. I'm told you need to stick around for the end credits. I didn't. My bad. I'll catch 'em before the Oscars.