Currently browsing the "
The Hunger Games trilogy

" tag.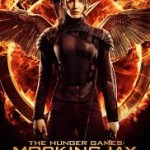 Hollywood can be so cruel. Splitting the third and final book of The Hunger Games trilogy into two movies feels so… unnecessary. Lucrative, in a "hey, Harry Potter and Twilight got away with it" kind of way. But still, totally unnecessary. Thus Mockingjay – Part 1 is a good movie that could have been great. It's a means to an end – and that means fans of the franchise will (and should) see it despite my frustrations with a narrative cut short. Then – come next year – we will all surely see it again, as part of a movie marathon, when Mockingjay – Part 2 bows in theaters. Just in time for Thanksgiving 2015! May the odds of remembering what happened in the books – and the first three movies – be ever in our favor.
Mockingjay – Part 1 finds our reluctant heroine Katniss Everdeen (still played brilliantly by Jennifer Lawrence) waking up in the rebel safe haven of District 13 after having put a fork (okay, an arrow) into the craziness that was the Hunger Games – where kid 'tributes' from the districts of Panem had been forced to fight to the death as part of some annual penance devised by the autocratic Capitol. Why? It's complicated. If you really care to know, read the books. See the movies.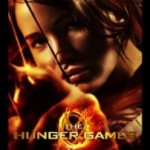 May the odds be ever in your favor. Odds are, if that means anything to you at all, then this review is totally irrelevant – you're going to see The Hunger Games. As well you should. It's good. It's not "oh my gosh – this is, like, the best movie ever" good. But it does serve the book and its fans quite well. In case you're unfamiliar, the movie is based on the first book of a young-adult, adventure science fiction trilogy by Suzanne Collins. That means we can expect at least two (or if the studios take a page from Potter and Twilight, at least three) more installments of what's sure to be a gazillion-dollar franchise.
The premise is admittedly bizarre. Every year, a teenage boy and girl from the 12 districts of Panem are sent to the Capitol to compete in a nationally televised, fight-to-the-death competition known as The Hunger Games. The Games were created as punishment for an uprising against the Capital decades earlier – and perpetuated as a way to keep the districts in line. Think of the 12 Districts as home to the 99 percent. The Capitol houses the 1 percent.
The Games' participants, known as Tributes, must fight one another until one survivor remains. And just like Texas with the Miss America pageant, some tributes are better prepped than others for the competition.