Currently browsing the "
Thomas Hardy

" tag.
What a simply horrid problem Bathsheba Everdene (Katniss's great-great grandmother?) has to contend with! She's young and pretty and has inherited a big old house in the British countryside with its own working farm and the money to run it, and she has three, count them, THREE men who want to marry her. The downside to her situation is that she lives in Victorian England and women are not supposed to be independent or headstrong. In this latest adaptation of the Thomas Hardy novel, Carey Mulligan plays Bathsheba with a decidedly 21st century vibe. And that works because really at its core Far from the Madding Crowd is a timeless tale of recognizing the love that is right in front of you, no matter what anyone thinks.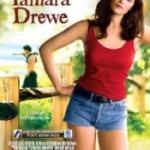 Stephen Frears has directed quite a few big budget, star-studded hits like Dangerous Liaisons, The Queen, High Fidelity, and The Grifters. And in between he keeps busy with smaller, somewhat quirkier films like Tamara Drewe. What remains the same in all is that he has a fantastic sense of character. In Tamara Drewe, the title character Tamara (Gemma Arterton), a beautiful London journalist, returns to her tiny home village in Dorset to get her recently deceased Mum's house ready to put on the market and brings some much needed excitement to the sleepy burg.