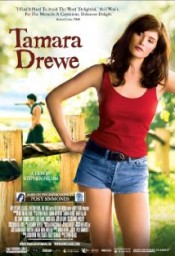 Stephen Frears has directed quite a few big budget, star-studded hits like Dangerous Liaisons, The Queen, High Fidelity, and The Grifters. And in between he keeps busy with smaller, somewhat quirkier films like Tamara Drewe. What remains the same in all is that he has a fantastic sense of character. In Tamara Drewe, the title character Tamara (Gemma Arterton), a beautiful London journalist, returns to her tiny home village in Dorset to get her recently deceased Mum's house ready to put on the market and brings some much needed excitement to the sleepy burg.
The film is an adaptation of a graphic novel, itself a modern reworking of Thomas Hardy's 19th century novel Far from the Madding Crowd (a great rental and/or read), and just as in the original, there are a handful of men competing for Tamara's attention. In the film's first shot we meet sweet hunk Andy (Luke Evans), gloriously unshirted and hard at work. Andy is the hometown handyman who Tamara had a "thing" with in her youth before she left the village for greater things. Next we are introduced to Nicholas (Roger Allam), the village's local celebrity author who Tamara had a big crush on when she was a girl. Philandering and full of himself Nicholas runs a writers' workshop with his loyal to a fault wife on their neighboring farm.
When Tamara shows up in town, she isn't the same girl she was when she left. She's had a nose job, which has transformed her into a knockout and every man that sees her is smitten. Andy is all too eager to help her get the house (which was once his family's) ready for selling, and Nicholas is soon lusting and spying on her from afar. But when she interviews and then jumps into bed with celebrity rock drummer Ben (Dominic Cooper), the whole village is thrown into a swivet.
Outside the main action are two über-bored local teenage girls who act as something of a chorus, watching all the comings and goings from the safety of an abandoned bus shelter and commenting about their lives and those of the rest of the town. One of them is "totally OMG!" in love with drummer Ben, so when she learns that he and Tamara are engaged, she sets about breaking them up. This in turn throws Tamara into Nicholas' arms and the ensuing affair sends the wronged wife into the arms of one of the visiting writers (who just happens to be writing about Thomas Hardy.) But being a comedy everything eventually works out for the best.
Tamara Drewe is not a film you're likely to think about much when you leave the theater, unless you're planning a trip to the English countryside and want to know which beautiful little hamlet was the setting. But if you're looking for nice little adult comedy, it is a fun, well-written, well-acted, little flick that is a joy to watch. There are laugh out loud moments, and some of the antics of the two teenager girls are hilarious. It would be a great chick flick outing or even a nice date night.