Currently browsing the "
Tim Miller

" tag.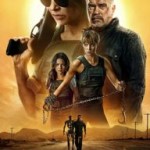 True confessions time. I'm more than a little late to the Terminator game. Until last week, my only exposure to the decades-old franchise revolved around random clips featuring Arnold Schwarzenegger as a menacing looking robot dude and pop-culture references to his signature line, "I'll be back."
Since I never ventured there to begin with, I couldn't really go back. Or could I?
Seemed fitting to try, given the brand's own penchant for messing with time. So thanks to Amazon Prime (free streaming of 1984's The Terminator) and iTunes ($3.99 rental of 1991's Terminator 2: Judgment Day), I got up to speed pretty quick, and got the baseline I truly needed for Terminator: Dark Fate.