Currently browsing the "
tintin

" tag.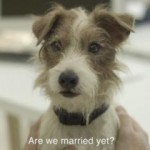 Our friends over at PetBabyNames.com have compiled their top ten list of the best pet names in the movies for 2011. Check it out:
This was a great year for animals on the silver screen — from several fabulous dogs and a heroic horse to one unbelievably talented monkey. So if you and your family welcomed a new pet this holiday season, you might consider naming him or her after one of these very worthy movie stars.
1. Arthur, played by Cosmo — Rescue dog Cosmo is a true canine star, having appeared in such hit movies as Hotel for Dogs as Friday and Paul Blart: Mall Cop. This Jack Russell Terriergives such a natural and charming performance alongside Ewan MacGregor in the acclaimed film Beginners, his name is even being barked about for an Academy Award nod. In terms of name value, Arthur fits the current trend of giving pets classic people names, while Cosmo (short for "cosmopolitan") is a very cool and sophisticated moniker for a fan of the cocktail — or for fans of Seinfeld, since it turns out to be Kramer's long-hidden first name.