Posted by Ellen Carl aka Adventurous Chick on January 11, 2012
Our friends over at PetBabyNames.com have compiled their top ten list of the best pet names in the movies for 2011. Check it out:
This was a great year for animals on the silver screen — from several fabulous dogs and a heroic horse to one unbelievably talented monkey. So if you and your family welcomed a new pet this holiday season, you might consider naming him or her after one of these very worthy movie stars.
1. Arthur, played by Cosmo — Rescue dog Cosmo is a true canine star, having appeared in such hit movies as Hotel for Dogs as Friday and Paul Blart: Mall Cop. This Jack Russell Terriergives such a natural and charming performance alongside Ewan MacGregor in the acclaimed film Beginners, his name is even being barked about for an Academy Award nod. In terms of name value, Arthur fits the current trend of giving pets classic people names, while Cosmo (short for "cosmopolitan") is a very cool and sophisticated moniker for a fan of the cocktail — or for fans of Seinfeld, since it turns out to be Kramer's long-hidden first name.
2. Uggie — This expressive and adorable Jack Russell Terrier about steals the show from his fellow actors in the silent-film sensation The Artist. In fact, he's also the subject of a write-in campaign for the Oscars.
3.
Snowy
— The white wiry terrier could be a Jack Russell as well — but since he's animated, it's kind of hard to tell. He does jump off the screen, though, as the stalwart pal of the adventurous reporter
Tintin,
who makes his screen debut in the
Steven Spielberg
-directed new movie. In the original series of comic books, Snowy is known by his French name of
Milou
. Both
Snowy
and
Milou
are great names for a sled-dog breed like a
Samoyed
or
Alaskan Malamute
, or for any
white-coated
pet.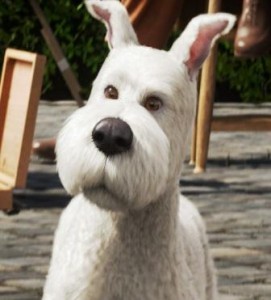 4.
Joey
— Steven Spielberg is also the creative force behind
War Horse
, the emotional story of a young man's bond with his beloved horse, as they both try to survive the horrors of World War I. Spielberg had the American Human Society on set for the entire film to watch over the 14 different horses who played Joey, and trainer Bobby Lovgren's own steed,
Finder
, was reportedly the one who did most of the heavy acting.
As for the name Joey, it also follows the trend of giving human names to dogs and cats, and also combines the popular "O" and "E" sounds that are readily heard and responded to by pets. It's also a nickname for a infant marsupial, like a kangaroo, so it's great for those bouncy dogs and cats as well. Finder is a fantastic moniker for any kind of retriever or a pet that performs rescues, like the St. Bernard or a German Shepherd.
5. Dolce — Pronounced "Dole-chay," this pretty name means "sweet" in Italian, making a perfectly delicious title for a good-natured dog or cat. And it definitely fits the Pomeranian who may just be the only friend of the unlikeable woman played by Charlize Theron in Young Adult. According to the New York Times, the film's director Jason Reitman, picked out the star pooch — whose real name is Hummer — on the streets of Manhattan, and found her smile irresistible.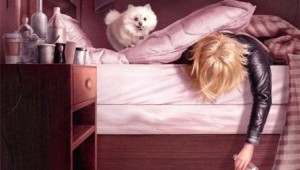 For the rest of Pet Baby Names top ten list click
here
.
No Comments Yet
You can be the first to comment!
Leave a comment