Currently browsing the "
Tolstoy

" tag.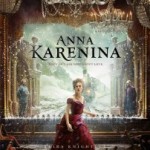 If ever there were a Chick Flick shoo in, this should be it. A tragic heroine foolishly throwing off her shackles for a forbidden love, and all wrapped up in really beautiful clothes — not to mention adapted from one of the greatest of all Russian novels. Anna Karenina stars Keira Knightley and is directed by Joe Wright who also made Atonement and Pride and Prejudice with her in the lead. In case you never read the book, the basic story is that Anna is married to a Russian aristocrat and high-ranking civil servant (Jude Law). They have a young son she adores, but a chance meeting with a handsome young army officer, Count Vronsky (Aaron Taylor-Johnson), changes her very staid life in every way possible. It is love at first sight, and in late nineteenth century Russian society, even rich women had few rights and a long list of rules they were required to live by. Having a very visible affair was definitely not an option.
This is a wonderful film! It should be on the expanded Academy Awards list for Best Picture, but sadly it isn't. At least both Christopher Plummer as Tolstoy and Helen Mirren as his wife Sofya are nominated in their respective acting categories. The Last Station is the story of the last years of the great Russian writer Leo Tolstoy's life, his tempestuous relationship with this wife, his coterie of adoring sycophants who turned him into a cult figure, and a young man who became his personal secretary and family confidante.